Just spent the last two days researching this hoping HJ would not look at it and post a link directly relating to the subject with 30 seconds of posting. Makes me feel really foolish for asking
anyway the brake lights have been staying on, I jiggle the pedal it goes out. The last few days I actually had to pull the fuse to get the light to go out. Any way I went and purchased a new BL switch and replaced thinking I fixed the problem to find the same problem today and I had to pull the fuse. I was thinking bad relay but after looking and researching I cannot find a relay in the box or on the schematics. I took the original BL switch apart and it seems to be just fine, anyone have any ideas on this one?
Old BL switch spring seems to work just fine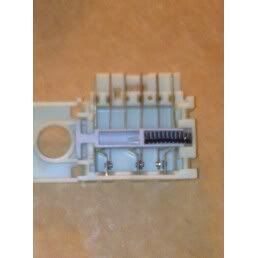 I dont see a relay in the schematic it looks like the power goes straight from the BL switch to VECHMSL fuse and the TRCHMSL fuse and the turn signal switch then on it way to the brake lights no relay that I can see.
So maybe a intermittent short in the system?
Also in my searches I came across a TSB that pertained directly to me I have these fuses sitting in my garage right now. It looks like it is for the 15 amp only.
Bulletin No.: 07-08-45-002
Date: September 05, 2007
ADVANCED SERVICE INFORMATION
Subject:
Service Alert: Concerns With Aftermarket Fuses in GM Vehicles
Models:
2008 and Prior GM Passenger Cars and Light Duty Trucks (including Saturn)
2008 and Prior HUMMER H2, H3
2008 and Prior Saab 9-7X
Concerns with Harbor Freight Tools "Storehouse" Branded Blade Type Fuses
General Motors has become aware of a fuse recall by Harbor Freight Tools/Storehouse for a variety of aftermarket fuses. In two cases, these fuses have not provided protection for the wiring system of the vehicles they were customer installed in.
Upon testing the 15 amp version, it was found that the fuse still would not "open" when shorted directly across the battery terminals.
How to Identify These Fuses