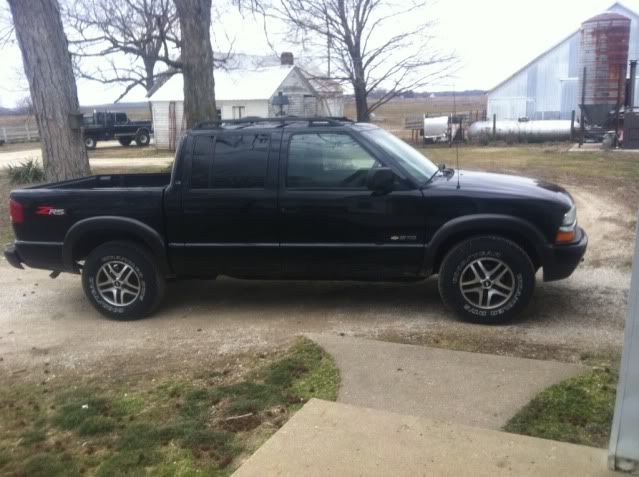 04 ZR5. So far this is the only picture of this I have at the moment. More to come.
95 Jeep YJ. This little jewel is were STUCKY comes from. Mostly stock, with a spring under 3.5 inch lift. 2.5L, AX5 without 5th gear. The blue TJ is my buddy's girlfriend's. This is in Attica, IN, at the Badlands.
Here is his. Late 70's CJ. It's got a couple things done to it.
http://www.pirate4x4.com/forum/showthread.php?t=958877
87 and 91 K5s.
91 K5. I've had this for 6 or 7 years now. I have broke a lot of things. Chromoly shafts in the front 10 bolt. Semi float 14 bolt with disks in the back. 3.73 gears. Slip yoke eliminator on the np241. 1 inch body lift. Slight fender trimming. 4.5 inch bumpstops in the front to keep the tires out of the fenders. 35x13.50x15 Toyo open county mts on stock wheels and suspension.
87 K5. I traded a running 55 CJ for this. It needed a motor. Well I have a 90 suburban that needed a transmission. 6 days later I was driving it. It's been getting steady doses of body damage since. It's sitting on bald 36x12.50 TSLs. Hacked fenders. Rust everywhere. It currently has a broken ujoint and the outside of the passenger side is not really attached to the inside anymore. Both from jumping dry dams.
91 caprice. Was a local towns old cop car. I paid 250$ for it, put a battery in it, aired up the tires and drive it home. It was ugly. The lights, sirens, PA, wigwags and a bunch of other stuff was left in it.
I have a few others things that I won't bother posting pictures of. 70ish Opel GT, 79 wagoneer, 82 Cherokee, and 90 suburban.
There will be more updates...