Alright, I'll fill you guys in on recent changes.
So I took the off rear flares a couple weeks back. They were falling off. I broke like 8 of 10 of the studs getting them off and had to use a grinder to get the broken junk out, which I got into the paint a bit. The flare less look is growing on me.
Last weekend, we were planning to head to washita (ohv park by Farmington mo) but for some reason they weren't going to be open and we went to moonlight racing (Sullivan mo) instead. Friday night, I lost a tailgate cable (one was already toast). I only got about 4 hours of sleep that night. I left the house at about 7:30, got to the park a little before noon, made some ham and cheese sandwiches wrapped in foil and put them on the engine, aired the down to 16 psi, and we headed out.
About 1 my buddy asks the leader in a group of jeeps if we can follow and go down this: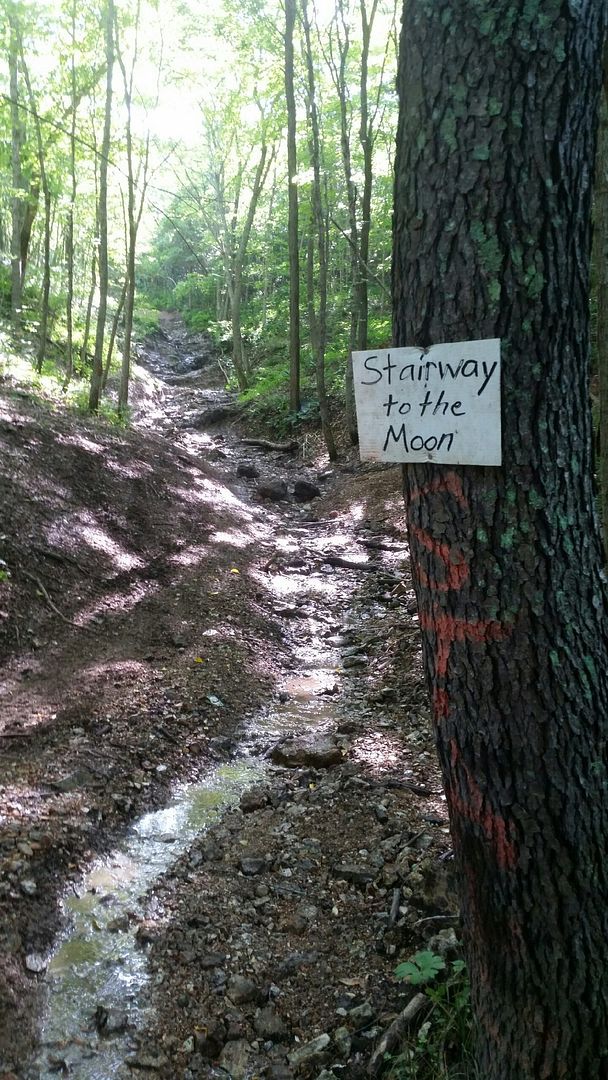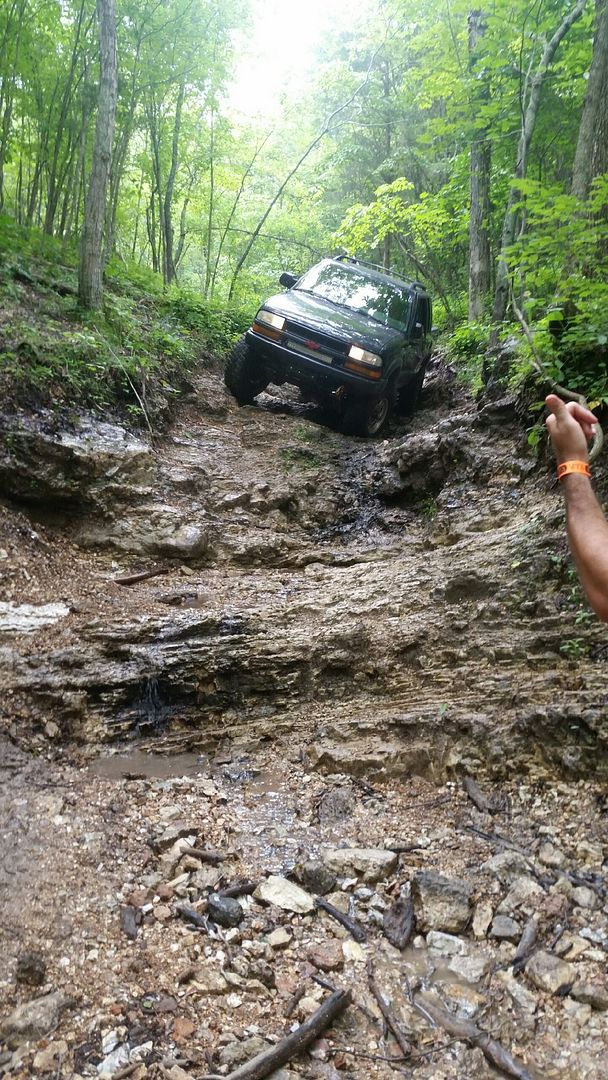 See the chunk hanging out on my driver side? Yea.... So I came down that on a less than favorable line and this happened, approx 1:30: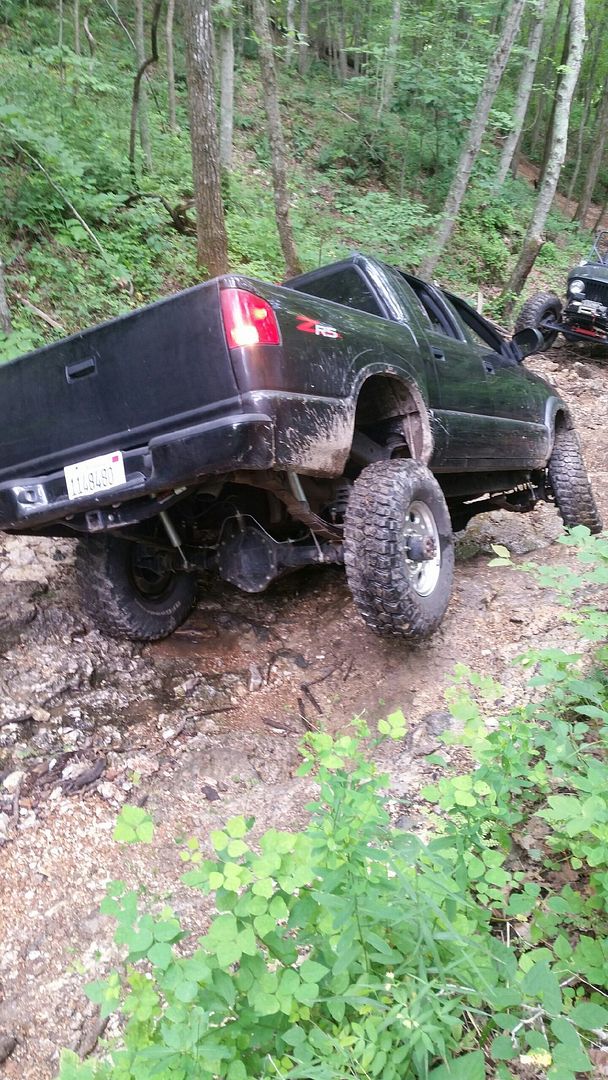 It got into the door pretty good. So my buddy's walk up to assist me and as I backed up and off the rock, my door fell open. Grab the handle and pull it and promptly rip my door panel in 2+ pieces.... So I grabbed my phone charger and tied the door shut on te b pillar to get down. We did what we could, slammed it shut and kept on going. Here's how it looked after I got down: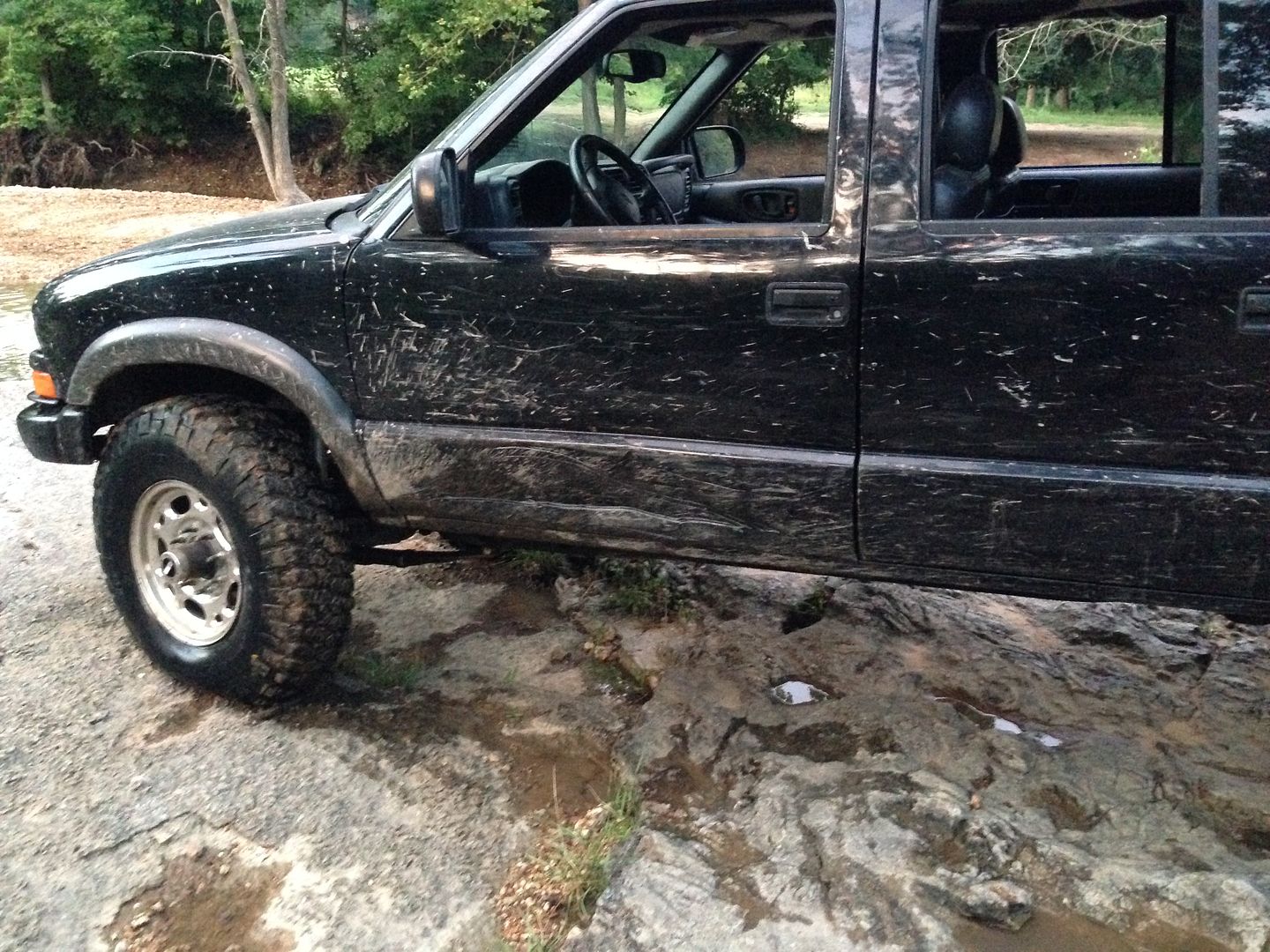 It's not *that* bad lol. Worst part is I think it kinda tweaked the brackets that the bushings and pins go through. I replaced them yesterday and had a local body shop work their magic with a tool they have. It seems to shut alright now.
Anywho, that was the worst of the carnage from Saturday. I bashed the front bumper and got the rockers on the pass side a little too. I think I took it pretty well, although I'd have rather not smashed anything lol.
Here's some other random pics: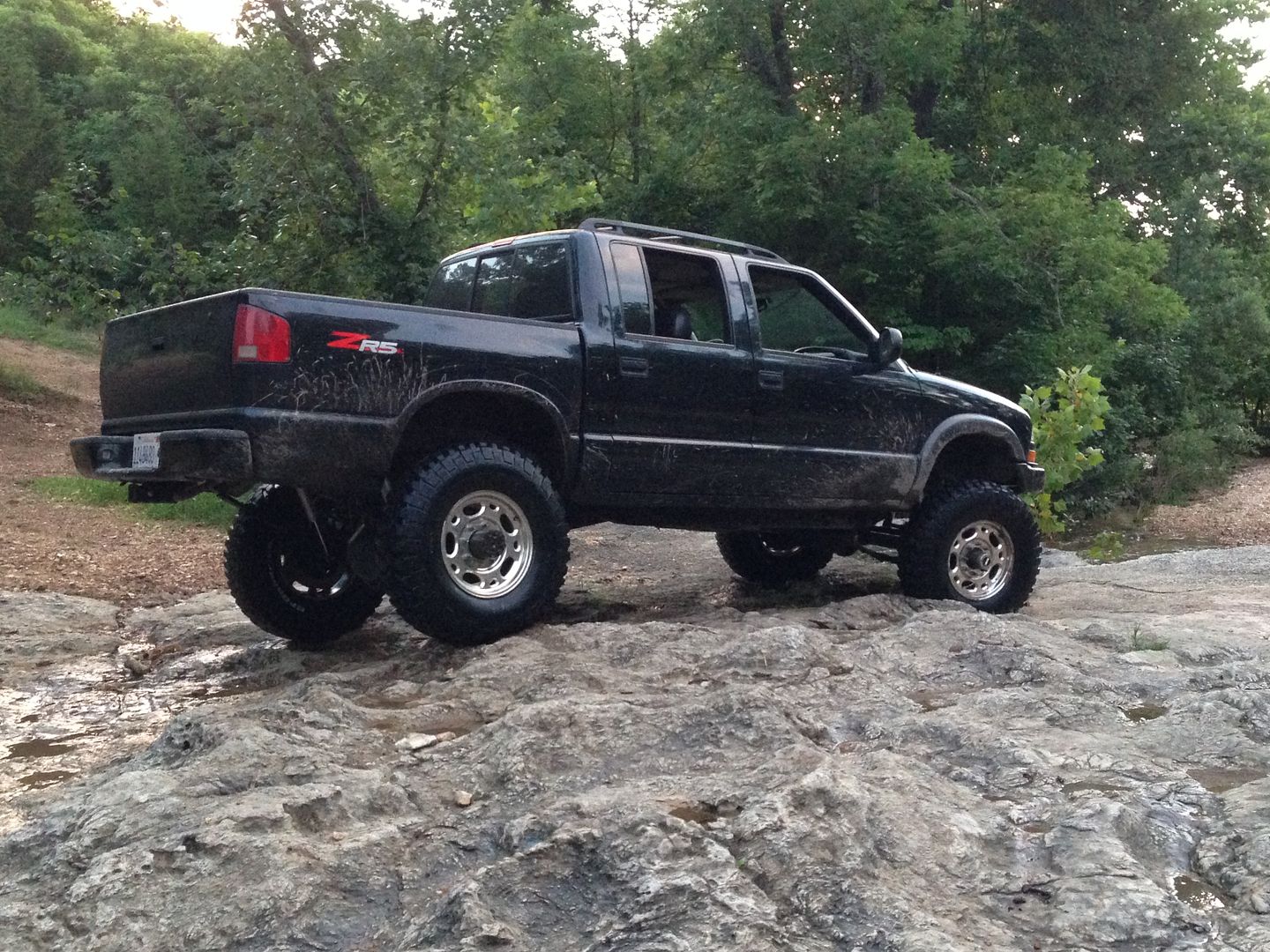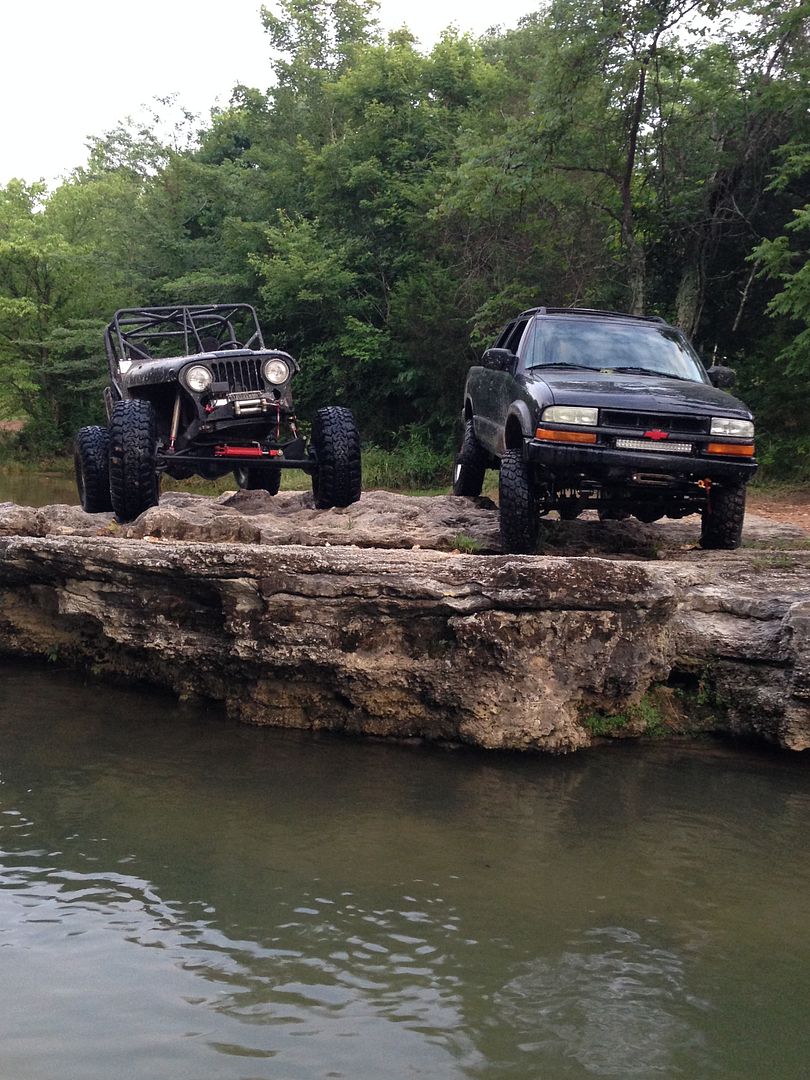 The only other real exciting situation I had was this, trying to back down, it pitched over... Let's just say I was puckered for sure. Pics don't do this (or the ones on the stairway to the moon trail) any justice on the angles: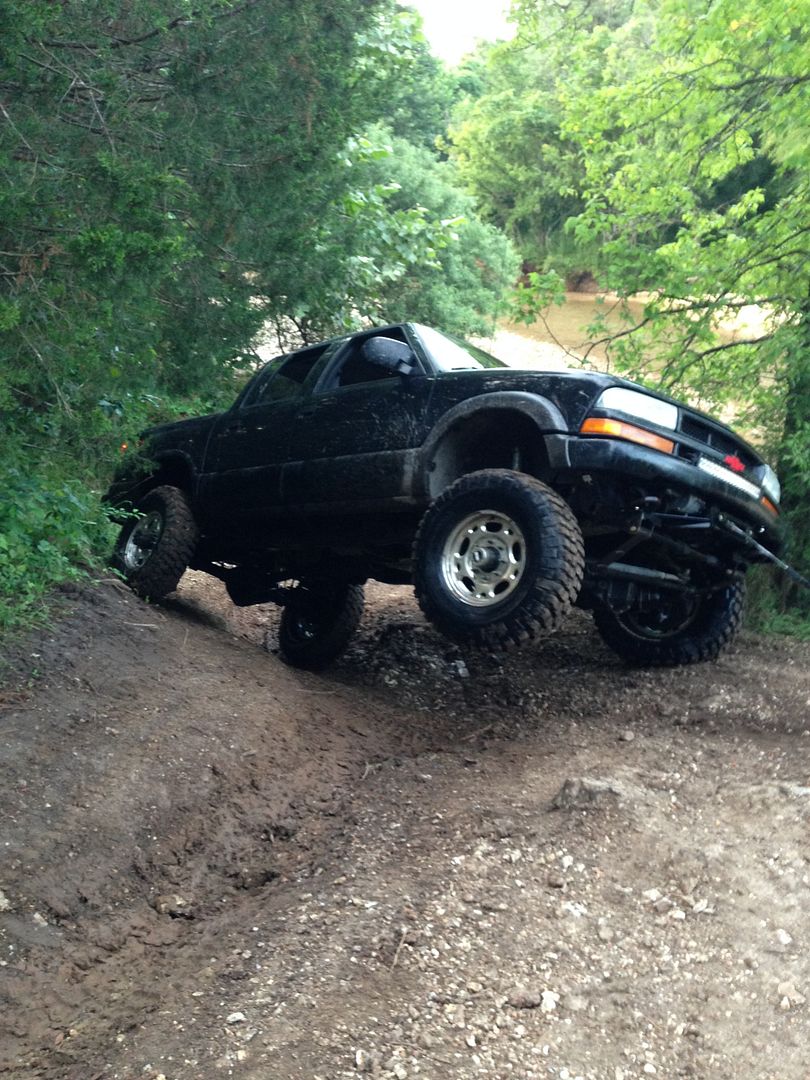 And I'll throw this one in too cause I don't think I've posted it yet, this was after I finished my bed and rock lights:
I'm probably going to head to the local mud park either Saturday or Sunday, probably not both. In 2 or 3 weekends, I got some buddy's planning to head to Attica. And I think it's 4 or 5 weekends I have a couple other buddy's planning to head to washita. I'm really enjoying this truck. It turns heads, it gets attention, it drives great (I got about 22 mpgs on the interstate going to moonlight racing!), it climbs great. I do wish the suspension was more flexible though cause it seems to really enjoy lifting tires. I do not regret the axle swap for a second.